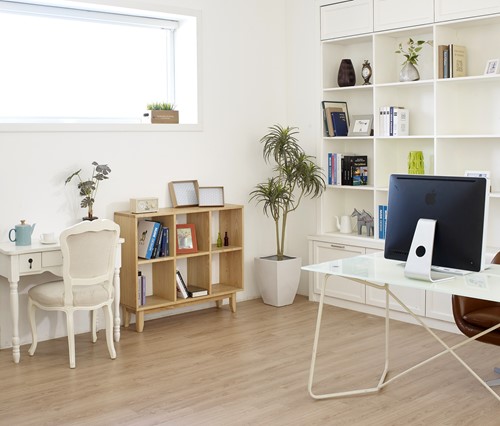 The short answer to our question of the day is...
We all know what we like when we see it.
New flooring can greatly increase your home's beauty in the eye of the beholder, yet it's impossible to know what kind of flooring will attract your home's next buyer. That said, here are the top selling points of three popular options.
Kudos for Carpeting
Carpet, especially if your home will be shown in the winter, is a popular way to add a comfortable look and feel to a home. Most often chosen for bedrooms, carpet can also hide a multitude of flaws beautifully and without a big dent in your savings. To spruce up a home for sale quickly, carpeting can be a great choice.
Now, for the possible drawbacks. Carpeting can cause issues for people with chemical sensitivities or allergies. It doesn't last forever, and it usually won't be as stylish in five years as it is when first installed.
Tip: Going with one flooring choice throughout your main living spaces can produce an expansive, well put-together look.
Hoorahs for Hardwood
Hardwood flooring is a classic choice. Walk into a home with hardwood floor, and you get a sense of elegance, comfort and beauty. Over time, the essential oils of the wood offer a subtly aromatherapeutic and natural appeal. A well-maintained wood floor lasts for decades.
Yes, a lot of moisture can impact its look, and the kids and pets can scratch it. And refinishing is a big job involving chemical abrasion, although fans of the DIY method point out to us that there are wood and laminate refinishing kits on the market for under $100.
Tip: A great, cost-effective alternative is engineered hardwood. Engineered hardwood comes prefinished, can be easily installed without a subfloor.
A Toast to Tile
Tile is as practical as it is handsome. Well-chosen tile will last the home's lifetime. The richer the hues, and the narrower the space left for grout to show, the easier tile is to clean.
In kitchens, either tile or laminate styled as tile works well. Expanses of tile are especially desirable in homes and condos throughout Florida and other warm states.
If you have tile, talk it up! Note its ease of cleaning, especially to potential owners with pets.
Tip: You can buy tile or laminate that looks like hardwood and have the hardwood look—without the refinishing needs.
Sellers Can Offer Options
If you're selling, and your flooring could use updating, considering offering to trim a little off your sale price, encouraging potential buyers to install their own choice of new flooring as desired. That offer itself might just make a deal happen.