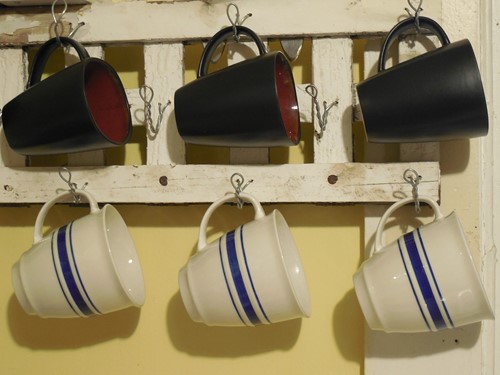 Homeowners may have mixed emotions about galley kitchens until they fully grasp their potential. People who have galley kitchen designs see the value in space efficiency.
These intimate designs position many utensils, spices, and appliances within arm's length. Rarely do galley kitchen owners have to take more than a few steps while preparing meals. Everyday people considering a home makeover or designing a new home may want to consider these galley kitchen ideas to maximize space efficiency.
1: Install A Floor-to-Ceiling Storage Cabinet
When creating a layout, it's important to understand the differences in space usage between traditional and galley kitchens. Large kitchens, especially those in open floor plans, tend to employ casual space strategies. These layouts often emphasize making the kitchen feel roomy and spacious. That's why they do not maximize potential storage space. A well-designed galley kitchen uses every inch possible. Integrating a floor-to-ceiling cabinet can help accomplish that goal.
2: Consider Open Shelving Instead of Wall-Mounted Cabinets
Perhaps the main reason homeowners install cabinets involves keeping clutter out of plain view. Although this strategy may help make the cooking area appear tidy, wall-mounted cabinets cannot deliver the maximum space efficiency necessary in a galley kitchen.
Open shelving allows home chefs to use the full potential of a wall. They can be set at heights that will enable people to organize items such as cereal boxes, pasta, children's snacks, fruits and nuts, and gadgets used on a regular basis. For those concerned about the area looking untidy, there are strategies to make open shelving look great. Colorful boxes, dishes, gadgets, and other items add a unique style that many traditional kitchen users envy.
3: Employ Creative Ways to Secure Kitchen Items
Although galley kitchens typically provide ample countertop space, efficient use requires keeping as many items at arm's length as possible. When home chefs tell friends and family members how much they love the galley kitchen, it's largely based on how easy it is to prepare meals. That said, these are space efficiency techniques to consider.
Hooks: By installing hooks on the underside of low shelves or cabinets, homeowners can store and display coffee cups among other items.
Magnetic Plates: One of the hot-trending gadgets includes magnetic wall attachments that allow people to secure stainless steel cutlery near food preparation counter space.
These space utilization ideas prove useful largely because the galley kitchen tends to be a cozy space almost exclusively used for meal preparation and storage.
4: Maximize the Use of Kitchen Windows
In the galley kitchen, windows have a higher space value than in other layouts. They remain a source of natural light and add comfortable energy as well as pleasant views. But because a quality galley kitchen must leverage every usable inch of space, homeowners may want to consider using sills as counter space.
Although everyday people usually place plants and purely aesthetic items on sills, it makes good space efficiency sense to ripen fruit and place items that won't be impacted by direct sunlight. It's also worthwhile to install a shelf above the window. This strategy adds to storage square footage. It may also allow homeowners to hang plants by attaching them to the underside of the self.
It's essential to understand that creating a galley kitchen tasks homeowners with maximizing space efficiency. But by rethinking every inch in terms of practical use, homeowners gain the maximum benefit possible.