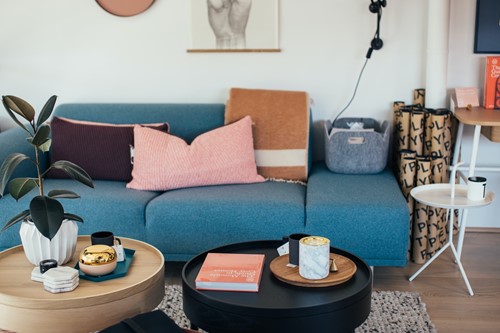 Does your living room need a refresh? If you're looking for home decor ideas, there are several popular trends to consider. Let's go over some of the biggest trends for living room design to help you get inspired.
Multipurpose Furnishings
A major shift into working at home has turned many people's living rooms into their home office. You can enhance your living room design by adding elements to celebrate and improve upon this need for versatility. End tables and ottomans with storage, bold statement chairs that can double as desk chairs and decorative task lighting are all ways you can work with this trend.
Natural Elements
It's time to bring the outside back in. Nature inspired color palettes are rising in popularity as are natural finishes and materials. Wicker baskets, jute rugs and natural unfinished wood are great ways to bring this idea into your design. Opting for sheer curtains that let in as much natural light as possible will also help your space feel more open. Indoor plants are a perfect way to add greenery to the room and improve the air quality at the same time.
Curved & Round Edges
Furniture and decorative pieces featuring curved edges are on the rise in living room design. A plush and curvy sofa is the perfect way to bring this sense of softness into your space. Contrast curved items like round end tables, spherical light fixtures and round-backed chairs with sharper angles for a bold and modern take on the trend.
Statement Art
Another big trend is using statement art and other wall decor to add personal style to your living room. Instead of a gallery wall, try going for a single piece of art in a larger size. Other options that work well for this include bold textiles and oversized reprints of antique posters. Keep the frame simple and let the art itself be the focal point of your living room.
Embellishment
Moving away from the sleek, clean lines popular in the last few decades, a rising trend in design is embellishment and softer details. Think ruffles, pleats, fringe and plush trim. Frilly ruffled drapes look great in the window when layered and contrast well with the sharp edges of larger pieces like bookcases or coffee tables. If you want to start small with this trend, try throw pillows and blankets to add some whimsy and softness back into your living room.
Low Furniture
The biggest upcoming trend we're seeing in living room design is the return of low-slung furniture. Chaise lounges, hammock chairs and low sofas are all excellent options for creating a sense of casual comfort with this trend. While this style of furniture is popular both in mid-century modern and minimalist styles, there's no reason they can't be extra cozy. Add thick texture upholstery and throw blankets to further soften those comfortable edges.
Trends will continue to do just that, trend. However, no matter what's popular, your personal preference will always make the best design choice for your space. Use these trend ideas to inspire you and create something all your own.